Ada's Testimony
Posted on Oct 31, 2023 at 16:13 PM
---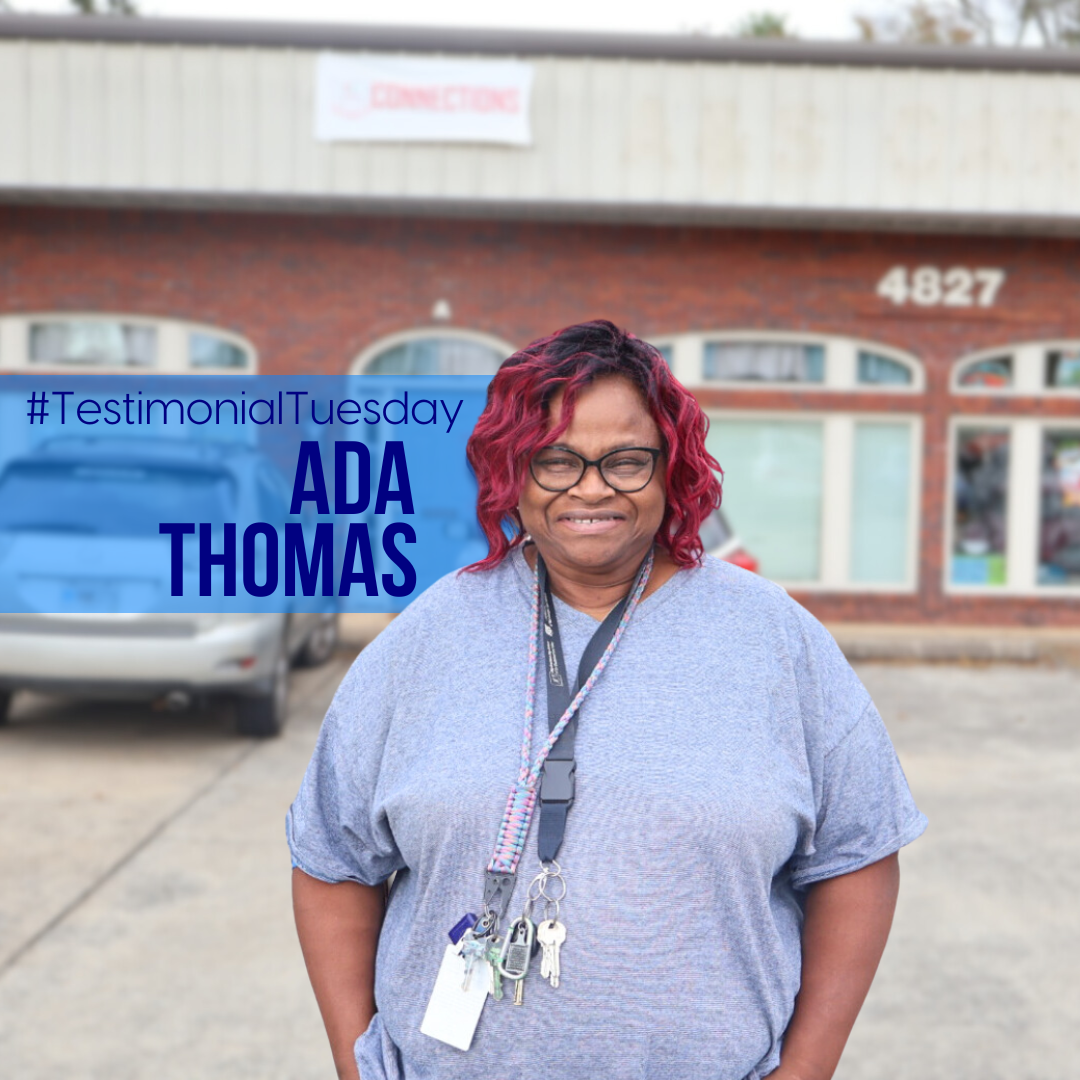 Ada Thomas is the Program Director at Connections The Place 2B, our peer-led recovery drop-in center. Ada has been living in long-term recovery for 10 years now and has overcame unimaginable obstacles during those years. We are so grateful to share her powerful story.

Ada grew up in Eufaula, Alabama where her upbringing was anything but easy. She comes from a family of generational trauma that dates back to her grandparents and experienced different forms of abuse herself from an early age. Due to her difficult upbringing, Ada became a shy and withdrawn child who found her escape in reading and school work.

When Ada was a preteen, she found a new source of freedom after escaping an abusive household and moving in her with her grandmother. Although this was better than her previous circumstances, this was also the time that Ada's substance use disorder began.

Ada was only 14 when she gave birth to her son. She then diagnosed with postpartum depression and spent the next few years battling her mental health and substance use disorder symptoms. Despite the odds and difficulties, Ada did the best she could to provide for her son and graduated high school. Her son was in the front row cheering.

After high school, Ada attended technical college while also working, but her symptoms were still difficult to manage. She was diagnosed with bipolar and schizoaffective disorder and tried many different medications, not knowing why they were not working. This led her to also self-medicate with alcohol.

Ada eventually found her way to New Horizons, where one of our doctors gave her a genetic test in an attempt to figure out why she was having difficulties with her medications. The results determined that Ada was allergic to certain properties in the medications she was taking. She was finally prescribed medications that worked for her instead of against her.

Finding the right medication has positively changed Ada's life in so many ways. Today, she enjoys spending time with her grandchildren, traveling, attending her church, reading, and participating in motivational support groups.

"I still struggle mentally," Ada says, "but I have a support system to turn to now: a case worker, a peer coach, family, friends, and support group."

As our Program Director at Connections, Ada is able to work with other peers living in recovery and support the mission of helping others in our community start recovery journeys of their own. Her biggest life goal is to operate a resource center for women coming out of incarceration.

Ada has a piece of advice for her fellow peers living in recovery: "develop a 'never give up' attitude and do not complain. Seek solutions of your problems based on oneself and others."

And a piece of advice for the behavioral healthcare system: "see the peer, listen to the peer, and use everyday compassion."

We are so incredibly thankful to know Ada and have her on our team. Her story is one of remarkable resilience and has undoubtedly helped others in our community.

To learn more about New Horizons, Connections, or any of our many other substance use and/or mental health programs, call us at 706-596-5500.

You can call Connections directly at 706-507-9016 or drop-in during regular business hours at 4827 14th Avenue, Columbus, GA 31904.
---
---